Stress Gold - for High Stress Situations in Dogs
has a rating of
4.3
stars based on
216
reviews.
Stress Gold - for High Stress Situations in Dogs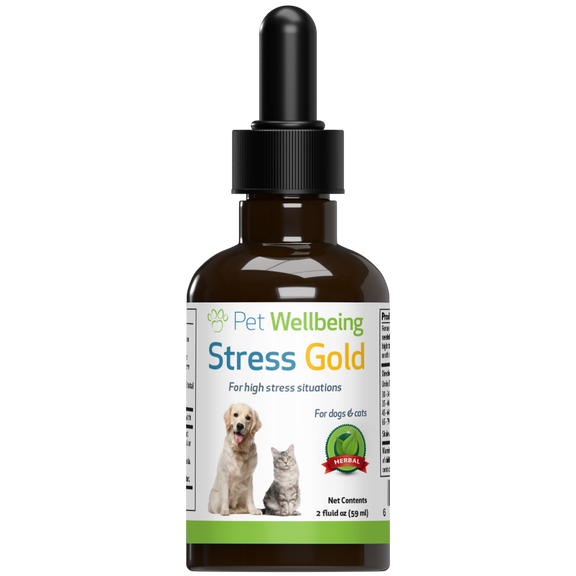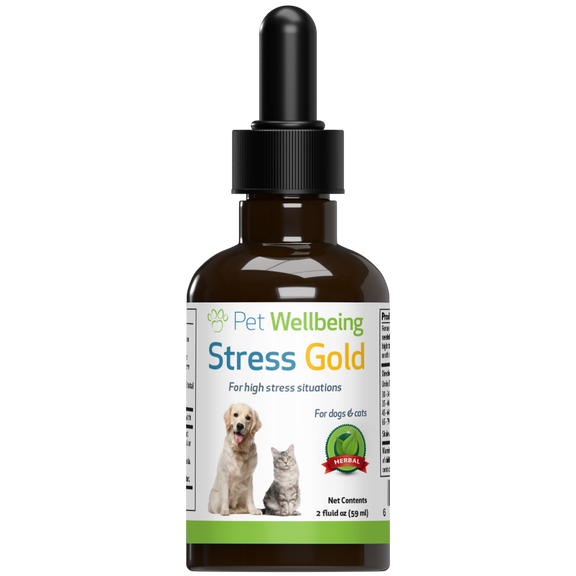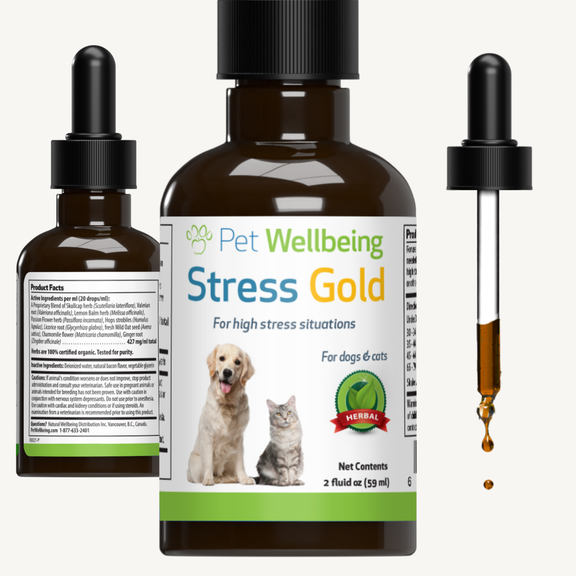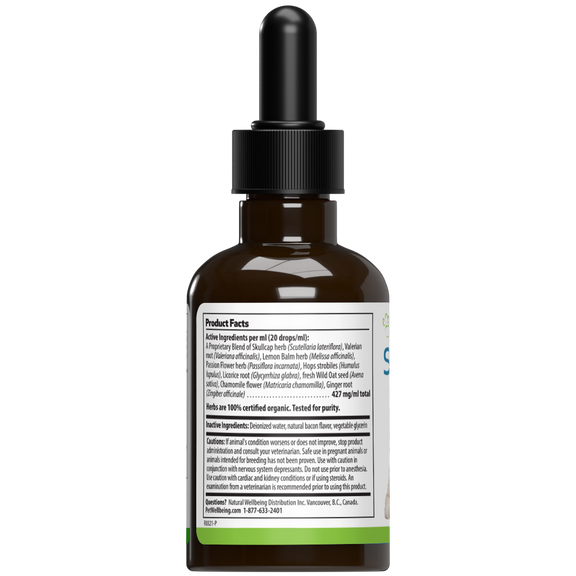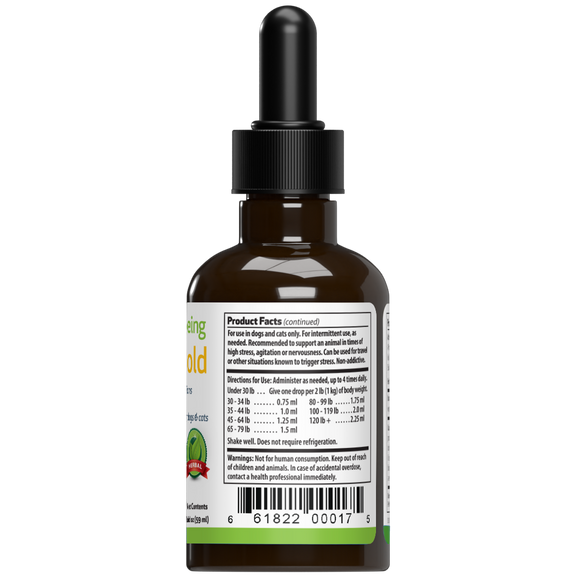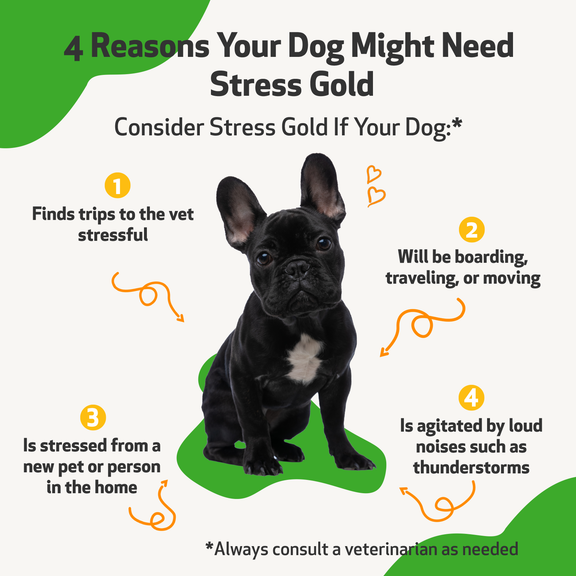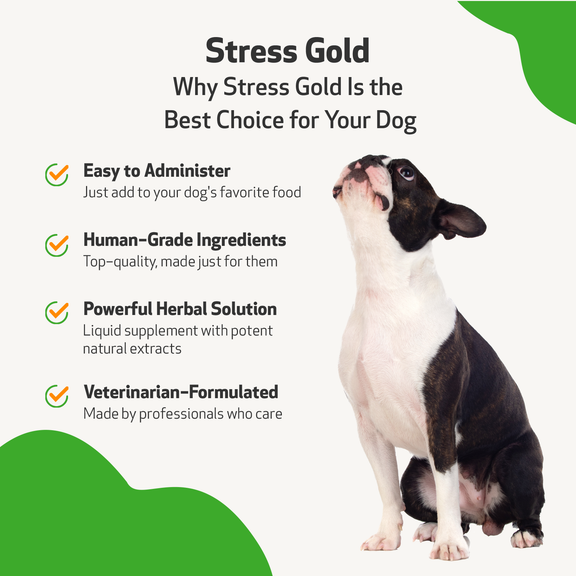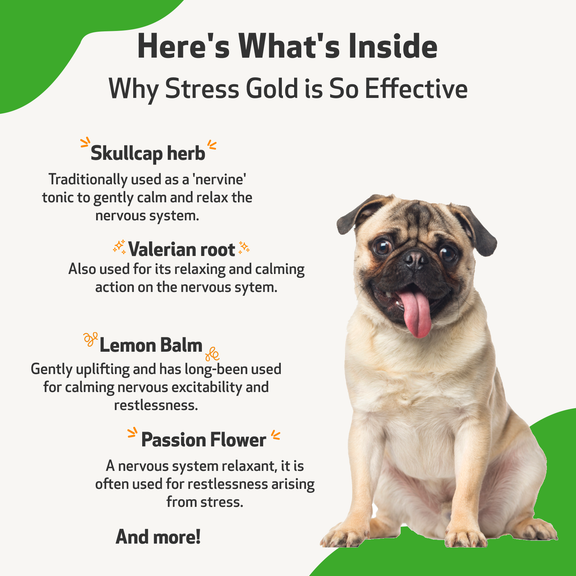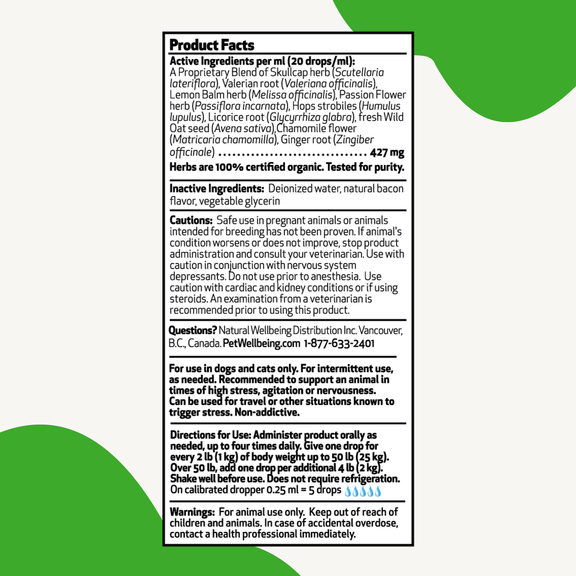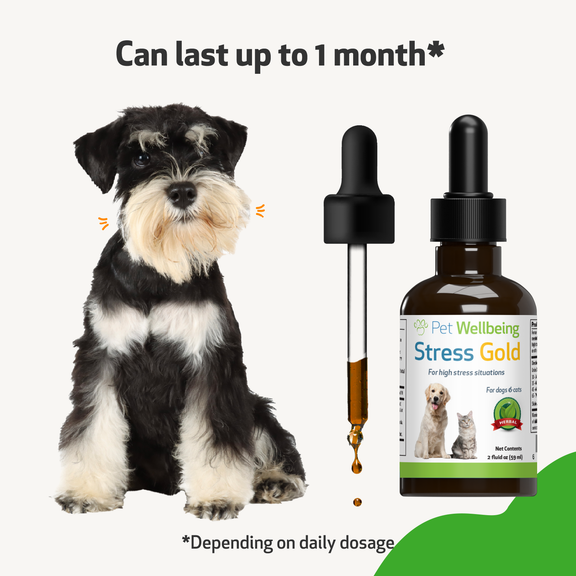 Skip to product information
Stress Gold - for High Stress Situations in Dogs
Free Shipping On All Orders
Why Subscribe & Save?
Save 12% on all Subscribe & Save orders.
Lowest price guarantee - better than Amazon.
No fees, no commitments - cancel Subscribe & Save anytime.
Shop risk-free with our 5-Star Experience or it's FREE Guarantee. Risk-free 5-Star Experience or it's FREE Guarantee.
Works quickly to soothe anxiety in stressful situations, relaxes nervous system
Travel, boarding, moving
Loud noises like thunderstorms or fireworks
Changes, such as a new pet or person in the home
Trips to the vet
Stressful routine changes
Order Stress Gold today to help your dog feel calmer when dealing with stressful situations.
Five-Star Experience or it's FREE
2 oz (59 ml) is a 1-month supply for most dogs (up to 50 lbs)
Calculate Dose - How long will this last my pet?
?What should you expect with our products?
Legal Disclaimer: Results may vary from pet to pet
What is Stress Gold?
Stress Gold is a fast-acting herbal formula designed for dogs. This herbal combination naturally supports the central nervous system in times of nervous tension or heightened states of emotion.
The primary herbal ingredients in Stress Gold produce a natural relaxing effect. The result is reduced nerve tension, subdued restlessness, and a decreased tendency to hyperactivity or excitability. The class of herbal relaxants used in this formula are gentle and will not cause stomach upset.
Stress Gold will help your pet feel pleasantly relaxed and possibly sleepy.
What is Stress Gold Used For?
Stress Gold acts quickly on the nervous system so your pet can feel more relaxed at times when they might otherwise experience sudden anxiety, agitation or even aggression. Use Stress Gold before or after a known stressful situation to restore calmness.
Many behaviors can be observed with an animal under stress.
A pet may appear nervous or agitated to the point of displaying fear (panic), pacing or showing aggression. If the animal is unable to calm down, there may be an increase in heart and breath rate. Stress can be expressed by urinating, biting or incessant barking.
In some cases, stress can be induced by a medication, but in most cases it is due to something in the animal's environment:
Travel, boarding, moving
Loud noises like thunder, shouting, children, or fireworks
Change in pet owner, even temporary
New people in the home or someone's absence
Home renovations
Physical stress is another type of stress, usually caused by pain or discomfort due to an injury, or inflammation such as with arthritis. By treating the cause of the health issue, the discomfort will hopefully abate and with it, the feelings of stress. For physical discomfort, we highly recommend using Comfort Gold.
A note from our veterinarian...
Like people, our pets have individual histories, perceptions and personalities. It is important to notice and respond to your pet individually. It may be hard to understand why a certain event is stressful or it may be obvious. Either way, it is helpful to have Stress Gold on-hand if your dog is prone to stress or a stressful event is about to take place. Take comfort that there is a safe and natural product you can provide when it is needed. For your pet's peace of mind and your own.
The amount of Stress Gold required is individual. In other words, the dosage needed by one pet may be different from the amount another pet needs. Some pets respond dramatically to nervines ("NER-veens" = herbs that have an effect on the nervous system) and others need more to illicit an effect. Notice how your pet responds for 30-40 minutes after administering Stress Gold. You may need to repeat the dose and this can be done safely, up to 4 doses.
Stress Gold can be used for hyperactivity and trouble relaxing at night when everyone in the house is trying to sleep. Insomnia or night stalking may be a clue that something is wrong. Some causes of insomnia are:
Conditions like pain (example: from arthritis or hip dysplasia)
Hyperthyroidism
Chronic itchiness due to allergies or fleas
Frequent need to urinate (may be a kidney or bladder problem)
Old age
Insomnia is usually a symptom of something else, rather than a condition in itself. Treating the cause of insomnia is the primary focus but Stress Gold can provide relief while the condition exists.
If your dog is experiencing ongoing anxiety or requires support with long-standing behavioral problems, I recommend using Calming Care as a daily supplement. Calming Care takes effect gently over time to support sustained, calmer mood.
Does it Come With a Guarantee?
Yes! Stress Gold comes with a Five-Star Experience or it's FREE guarantee.
Why Choose Stress Gold for Your Dog?
Certified Organic:  This formula is entirely prepared from organically grown herbs. All raw materials are tested for identification and purity.
Full-Spectrum Extract: The full biochemical spectrum of the herbs is preserved to ensure optimal potency. 
Every Batch Tested: Every batch of our Stress Gold is tested to ensure the highest quality and potency. Every single batch.
FDA-Registered Facility: Our manufacturing facility is FDA registered. Strict quality control procedures are meticulously monitored.
FDA Center for Veterinary Medicine Guidelines: PetWellbeing.com complies with the provisions of the CVM's good guidance practices for pet dietary supplements. All ingredients and caution statements adhere to these national guidelines.
It's Guaranteed: In addition to the superior quality of our products, you are also protected by our Five-Star Experience or it's FREE guarantee.
Who Makes Stress Gold?
Stress Gold is made by Pet Wellbeing, founded in 2001. Our goal? To bring the wisdom and experience of our caring holistic veterinarians to your pet. When your pet is healthy, you're happy.
To fulfill our vision, our on-staff, holistic veterinarians have developed formulas using time-honored, traditional uses of herbs and integrated the latest scientific research. It is our aim to produce the best products for your pet that we can.
Administer Stress Gold up to four times daily:
Under 30 lb: Give one drop per 2 lb (1 kg) of body weight
30 - 34 lb: 0.75 ml
35 - 44 lb: 1.0 ml
45 - 64 lb: 1.25 ml
65 - 79 lb: 1.5 ml
80 - 99 lb: 1.75 ml
100 - 119 lb: 2.0 ml
120+ lb: 2.25 ml
Shake well before use. Does not require refrigeration.
Notice how your pet responds for 30-40 minutes after administering Stress Gold. You may need to repeat the dose and this can be done safely, up to 4 doses per day.
BEST way to give drops: Add drops to a small portion of a favorite food or treat and ensure the entire amount is consumed. Stress Gold is enhanced with delicious, natural bacon flavor. We recommend administration of the drops in a way that your dog will like best.
Cautions
If animal's condition worsens or does not improve, stop product administration and consult your veterinarian. 
Safe use in pregnant animals or animals intended for breeding has not been proven.
Use with caution in conjunction with nervous system depressants. Do not use prior to anesthesia.
Use caution with cardiac and kidney conditions or if using steroids.
An examination from a veterinarian is recommended prior to using this product.
Not for human consumption. Keep out of reach of children and animals. In case of accidental overdose, contact a health professional immediately.
Stress Gold is Formulated With:
Skullcap herb (Scutellaria lateriflora): Skullcap provides a gentle relaxant action to the entire nervous system and is well-documented in European and Native American traditional herbal medicine as a nerve tonic (nervine). Nervines are a classification of medicinal herbs that exert an action directly on the nervous system.
Valerian root (Valeriana officinalis): Valerian root is another supportive nervine that is helpful for relaxation.
Lemon Balm herb (Melissa officinalis): Amongst its other actions, Lemon Balm is calming, gently uplifting to the spirits, and has been used for nervous excitability and restlessness.
Passion Flower herb (Passiflora incarnata): This exotic-looking herb provides gentle relaxing properties. 
Hops strobiles (Humulus lupulus): Hops helps ease nervousness, relaxes smooth muscle, and may exert a longer-lasting effect upon the nervous system than many other nervines. Hops is also supportive to the urinary system for those animals who exhibit symptoms of stress in the urinary tract when stressed, such as dribbling or peeing.
Licorice root (Glycyrrhiza glabra): One of its main properties is that of an adaptogen, meaning that it can assist the body to adapt to stress through its action on the adrenal glands. Licorice also provides a naturally sweet, pleasant flavor.
Fresh Wild Oat seed (Avena fatua): As a nerve restorative, Wild Oat seeds gently assist the body in times of nervous exhaustion or nervous debility. The nutrients in Wild Oat seeds are particularly restorative to nerve cells.
Chamomile flower (Matricaria chamomilla): Used traditionally as a mild sedative, Chamomile can be particularly useful for hyperactivity, excitability, and digestive upset.
Ginger root (Zingiber officinale): A small amount of Ginger is added to this formula for easing stress-related nausea or digestive issues. Ginger also stimulates digestive secretions and can help to keep the appetite normal and healthy.
... 427 mg per ml
Herbs are certified organic.
Inactive ingredients: Deionized water, natural bacon flavor, vegetable glycerin.