SPARK - Daily Nutritional Greens Supplement
has a rating of
4.5
stars based on
377
reviews.
SPARK - Daily Nutritional Greens Supplement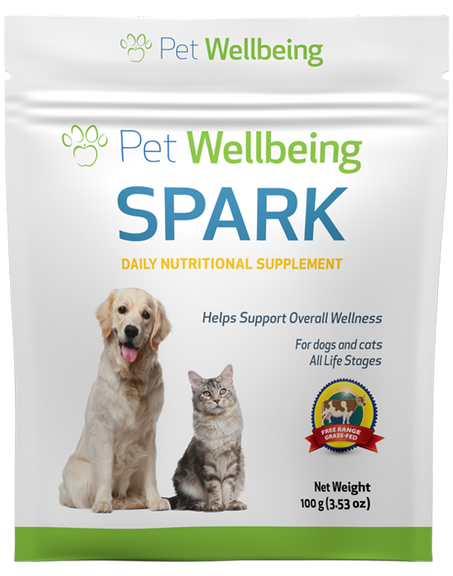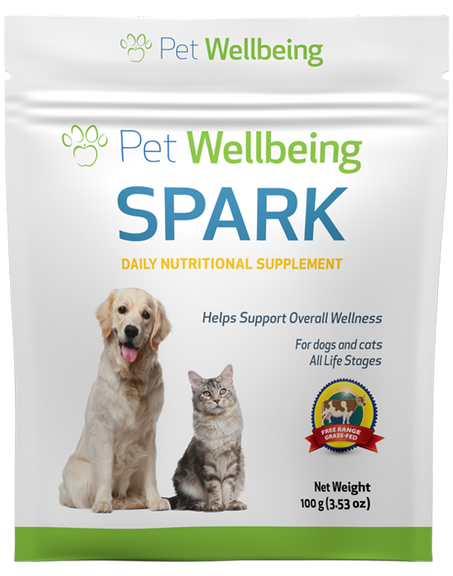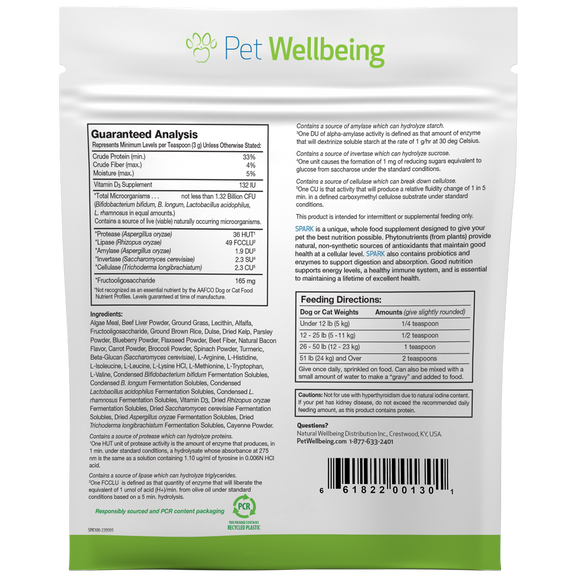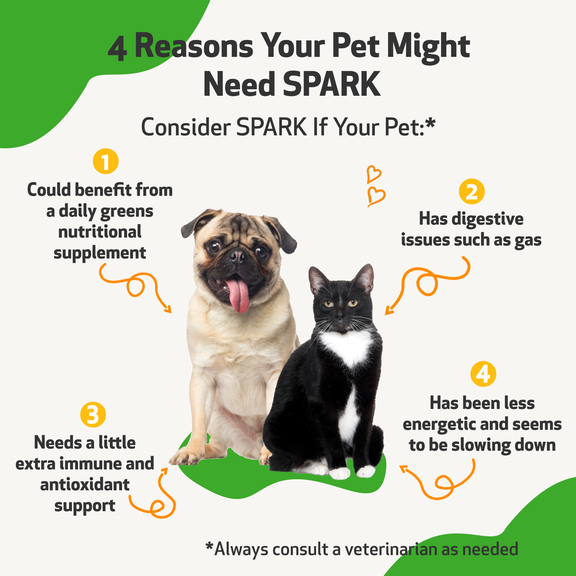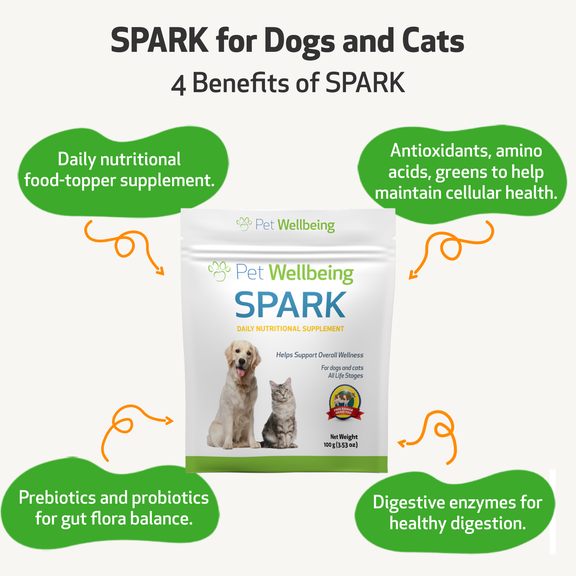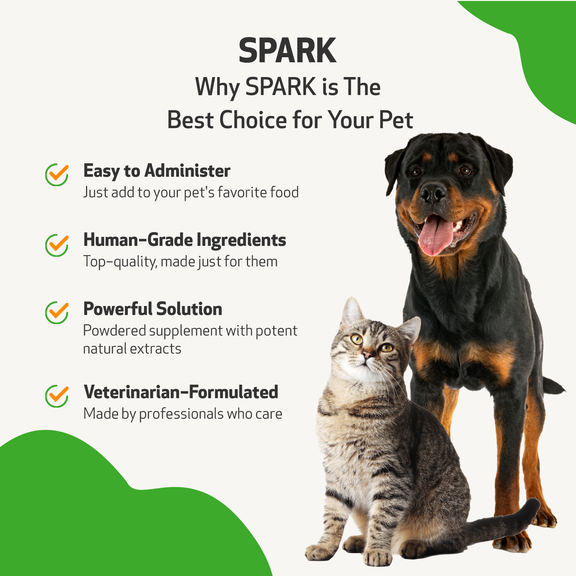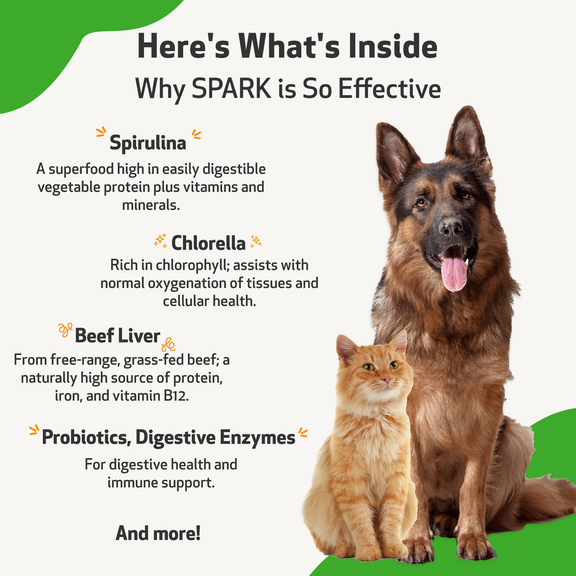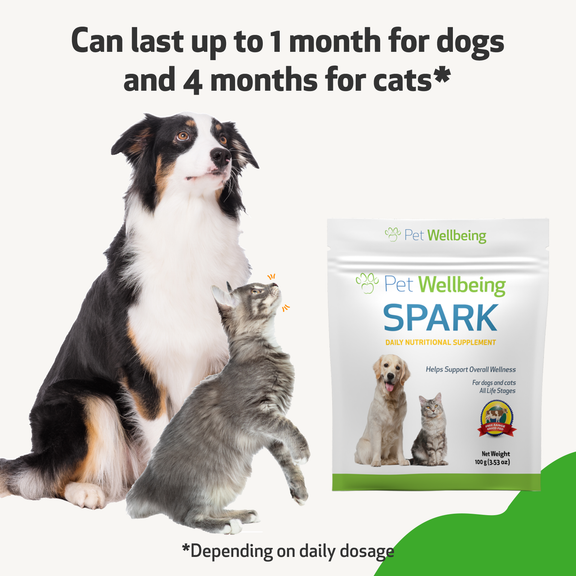 Skip to product information
SPARK - Daily Nutritional Greens Supplement
Free Shipping On All Orders
Why Subscribe & Save?
Save 12% on all Subscribe & Save orders.
Lowest price guarantee - better than Amazon.
No fees, no commitments - cancel Subscribe & Save anytime.
Shop risk-free with our 5-Star Experience or it's FREE Guarantee. Risk-free 5-Star Experience or it's FREE Guarantee.
Add SPARK to your pet's food every day for optimal nutrition - and watch your pet thrive!
Antioxidants and amino acids to help maintain cellular health
Prebiotics and probiotics for gut flora balance 
Digestive enzymes for healthy digestion
Protein from free-range, grass-fed beef liver
Greens from alfalfa, barley, spirulina, chlorella, and more
Order SPARK today and give your dog or cat a lifetime of excellent health!
Five-Star Experience or it's FREE
1 bag is 3.53 oz (100 g)
1-month supply for most dogs up to 50 lbs 
4-month supply for most cats
?What should you expect with our products?
Legal Disclaimer: Results may vary from pet to pet
What is SPARK?
SPARK is a vet-formulated, nutritional food-topper supplement designed to provide your pet with many nutrients that diet alone does not provide. It offers a comprehensive blend of digestive enzymes, pre- and probiotics, antioxidants, amino acids, superfoods (including greens, vegetable powders, marine vegetables, and blue-green algae such as chlorella and spirulina) and more, to provide a wide spectrum of vitamins, minerals, and micronutrients.
SPARK provides 8 main components:
Fruit and vegetable "superfoods"
Vitamins, minerals, flavonoids, and other nutrients from whole-food sources

Probiotics and prebiotics
Fiber
Vitamin D3
Greens + marine vegetables

Digestive enzymes
Amino acids
Many of the ingredients in SPARK are termed "superfoods" because they are rich in vitamins, minerals, and other micronutrients from food sources, and they are easy to absorb and assimilate. They help maintain good health right down to the cellular level.
Unfortunately, many pet foods are highly processed and lack the vital nutrients that pets need to thrive. There is a big difference between surviving and thriving! SPARK was developed to provide pets with the best possible nutrition, so you never have to wonder if they are getting everything they need. Simply sprinkle SPARK onto their food or make into a "gravy" with a little bit of water - your pet will love the natural bacon flavor.
What is SPARK used for?
Our pets rely on us to provide them with what they need. Giving them daily, optimal nutrition is one way to show how much we care. Good nutrition keeps their immune system strong, coat and teeth healthy, and their energy levels and enjoyment of life easier to maintain. A healthy diet plus SPARK will help give you peace of mind in knowing that you are providing your pet with the best quality of life, for the long-term.
Use SPARK with pets of all life stages
Make SPARK a daily part of your pet's diet
We are confident that SPARK will become a regular part of your pet's health regime once they've tried it!
A note from our veterinarian...
If you are going to give your pet one supplement, this should be it. I have seen remarkable benefits and I recommend it for the majority of canines and felines of all ages (once they are weaned), and breeds. Cats or dogs that are hyperthyroid should not take this supplement. If your pet has a kidney condition please feed the suggested amount only, using caution.
SPARK gives you the assurance that your pet is getting everything he or she needs. Have you ever witnessed your dog or cat munching grass outside? Though they cannot digest common grasses very well, there is something in the grass that they crave. Most pet foods on the market include a minimum daily requirement of synthetic vitamins and minerals, rather than a full spectrum of nutrients. As a veterinarian, I am dismayed at the ingredients that go into some pet foods, even some of the "good" brands. Even though I recommend a more holistic diet, I encourage feeding SPARK with every type of diet.
SPARK is a great foundation for helping to ensure your pet's optimal health.
Does it Come With a Guarantee?
Yes! SPARK comes with a Five-Star Experience or it's FREE guarantee.
Why Choose SPARK for Your Canine or Feline Friend?
Good Manufacturing Practices:  All of our formulas are manufactured in a facility that adheres to Good Manufacturing Practices.
Every batch tested:  Every batch of our SPARK

 

is tested to ensure the highest quality and potency.  Every single batch.
FDA-Registered Facility:  Our manufacturing facility is FDA-registered.  Strict quality control procedures are meticulously monitored.
FDA Center for Veterinary Medicine Guidelines:  PetWellbeing.com complies with the provisions of the CVM's good guidance practices for pet dietary supplements. All ingredients and caution statements adhere to these national guidelines.
It's Guaranteed:  In addition to the superior quality of our products, you are also protected by our Five-Star Experience or it's FREE guarantee.
Who Makes SPARK?
SPARK is made by Pet Wellbeing, founded in 2001. Manufactured in the U.S.A.
Our goal? To bring the wisdom and experience of our caring holistic veterinarians to your pet. When you pet is healthy, you're happy.
It is our aim to produce the best products for your pets that we can.
Administer SPARK once daily:
Dog or Cat Weight:
Under 12 lb: 1/4 teaspoon
12 - 25 lb: 1/2 teaspoon
25 - 50 lb: 1 teaspoon
51 lb and Over: 2 teaspoons
Sprinkle on food once daily. Can also be mixed with a small amount of water to make a "gravy" and added to food.
Cautions
Cats or dogs that are hyperthyroid should not take this supplement.
If your pet has a kidney condition please give the suggested feeding amount only, and use with caution.
SPARK is Formulated With:
Ingredients on the product label appear in accordance with regulations of the Association of American Feed Control Officials. All ingredients listed on the label are approved dog and cat food supplement ingredients. 
Spirulina: A "superfood" high in easily digestible vegetable protein (over 60% protein, including all of the essential amino acids). Contains high levels of beta-carotene, vitamin B12, iron, magnesium, GLA (an essential fatty acid), and trace minerals.
Chlorella: High in chlorophyll, Chlorella assists with normal utilization of oxygen and aids normal growth and cellular health.
Beef Liver: From free-range, grass-fed beef, liver provides a naturally high source of protein, iron, and vitamin B12.
Barley Grass, Wheat Grass & Organic Wheat Grass Juice Powder: Cereal grasses are an excellent source of important vitamins, minerals, fiber, and protein, and the young greens are high in chlorophyll. They also provide immune and digestive support. Grasses of cereals are different than grains from plants, and are gluten-free.
Lecithin: Derived from vegetable sources and high in phosphatidyl choline, an important component of cell membranes throughout the body. Lecithin also contains small amounts of phosphatidyl serine.
Alfalfa Juice Concentrate: Alfalfa is high in the fat-soluble vitamins (A, D, E, and K). It is also one of the richest plant sources of trace minerals owing to the fact that its roots extend deep into the soil. It contains eight amino acids and an abundance of chlorophyll.
Fructooligosaccharides (FOS): Possessing a naturally sweet flavor, FOS are prebiotics, meaning that they enhance the action and sustainability of probiotics. Prebiotics also have shown positive effects on mineral absorption.
Brown Rice Protein: Provides a hypoallergenic protein source.
Dulse: High in magnesium, iron, and beta-carotene, Dulse also contains 10%-20% protein.
Bladderwrack: Another sea vegetable, Bladderwrack's trace mineral content provides important nutritional support.
Air-dried Parsley: High in antioxidants, particularly flavonoids like luteolin. Parsley is also an excellent source of beta-carotene, folic acid, vitamin C and vitamin K.
Blueberry: Blueberries possess a naturally occurring flavonoid called anthocyanins which provides antioxidant and vascular support.
Flaxseed: Contains both soluble and insoluble fiber which contributes to healthy digestion. Also a source of omega-3 fatty acids.
Beet Root: Beets provide concentrated amounts of phytonutrients called betalains, notably betanin and vulgaxanthin.
Natural Bacon Flavor: A taste that dogs and cats love.
Carrot: Provide key nutrients including carotenoids (alpha- & beta-carotene; lutein) and polyacetylenes (falcarinol and falcarindiol).
Air-dried Broccoli: Broccoli contains a unique combination of nutrients in concentrations and ratios not found in other plants including isothiocyanates, glucobrassicin, glucoraphanin, and gluconasturtiian. It also contains flavonoids (notably kaempferol).
Air-dried Spinach: Spinach contains large amounts of neoxanthin and violaxanthin. It also contains carotenoids and flavonoids and is a source of vitamin C, vitamin E, and manganese.
Turmeric rhizome (Curcuma longa) (as Curcumin): The dark yellow-orange rhizome of Turmeric possesses numerous benefits for digestion and liver support.
Beta 1,3-D-Glucan 60%: This is a type of soluble fiber that supports immune health. Although small amounts are found in foods (such as baker's yeast, mushrooms, and cereal grains) it is difficult to obtain beneficial amounts from the diet.
Amino Acids (L-Arginine, L-Histidine, L-Isoleucine, L-Leucine, L-Lysine, L-Methionine, L-Tryptophan and L-Valine): SPARK contains most of the "essential" amino acids, meaning that the body cannot manufacture them and they must be obtained through the diet. Amino acids build the proteins needed to sustain all of the body's cells. Proteins are needed for the body to produce antibodies (an important part of the immune system) and for building and repairing muscle. Critical amino acids are needed for many metabolic processes and neurotransmitter functions.
Probiotics (Bifidobacterium longum, Lactobacillus acidophilus, B. bifidum, L. rhamnosus): There is increasing research that demonstrates the importance of probiotics to fundamental health. Also called "good" or "friendly" bacteria, numerous probiotic species live in a healthy body, particularly in the digestive tract. Probiotics help to keep at bay the organisms that can cause ill health, including "bad" bacteria and fungi (yeast). Probiotics also help with digestion and gas and bloating. It is particularly important to replenish them after taking antibiotics.
Vitamin D3: Research has shown that vitamin D does more than just contribute to healthy bones. There is mounting evidence that shows a deficiency of this vitamin may be detrimental to many other important functions including immune healht.
Digestive Enzymes assist the breakdown and assimilation of:
Lipase: Fats and Triglycerides
Invertase: Sucrose
Protease: Proteins
Amylase: Starch
Cellulase: Cellulose (from plants)
Cayenne fruit (Capsicum annuum): Cayenne contains surprisingly high levels of minerals and naturally occurring vitamin C. Note: SPARK does not contain enough Cayenne to taste spicy.