Young at Heart - for Healthy Heart Maintenance in Cats
has a rating of
4.6
stars based on
123
reviews.
Young at Heart - for Healthy Heart Maintenance in Cats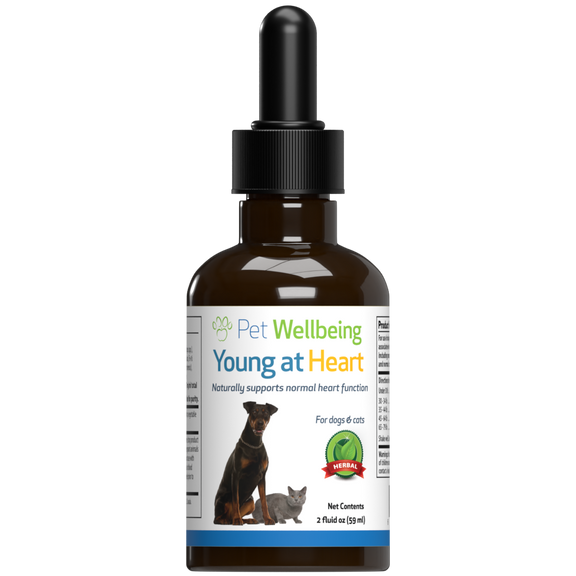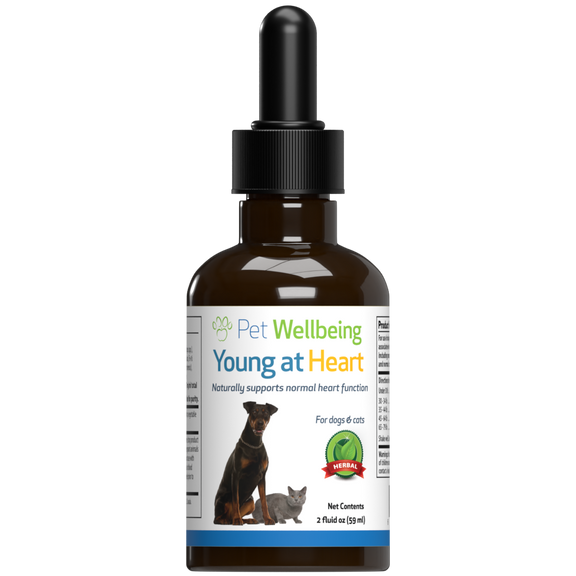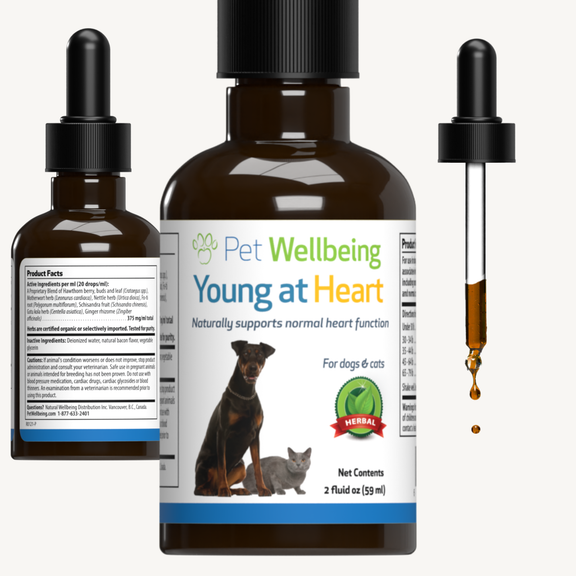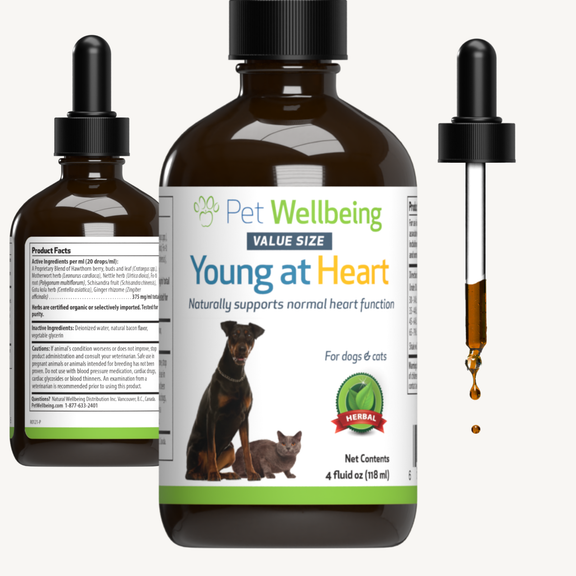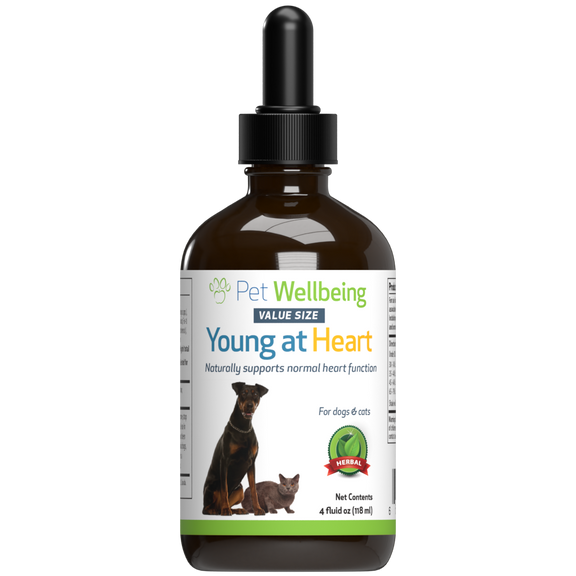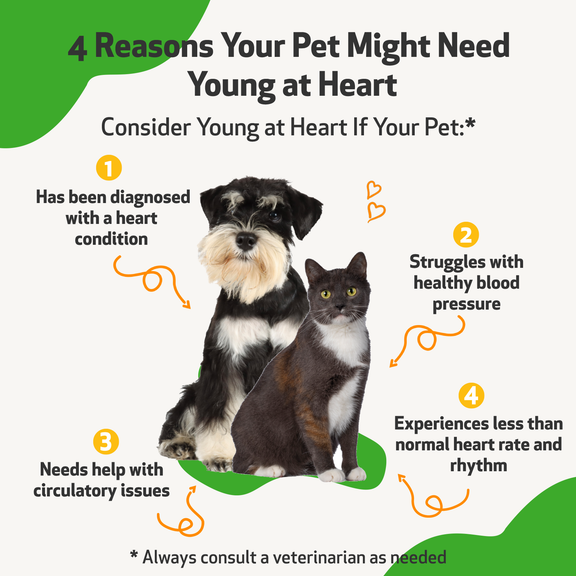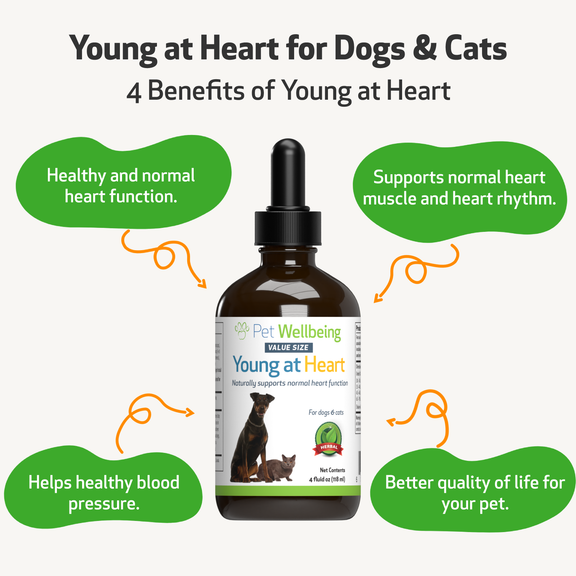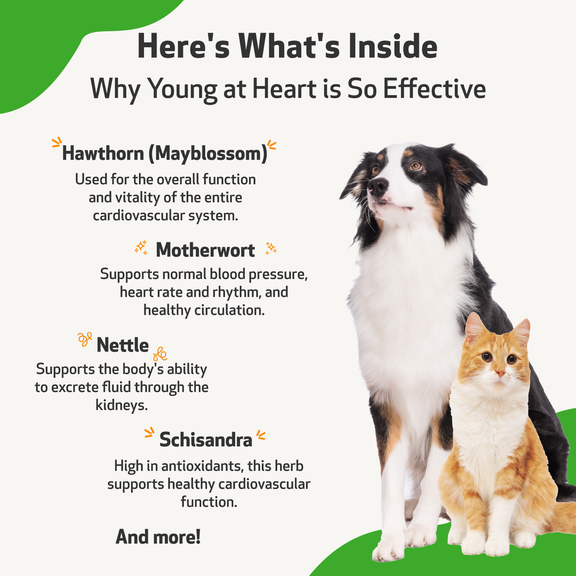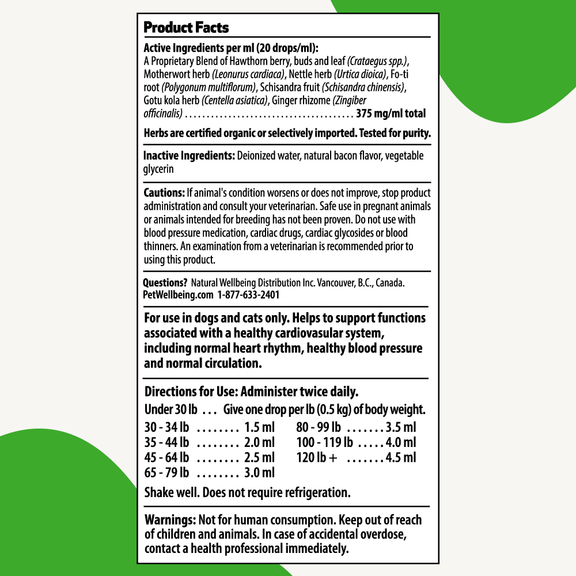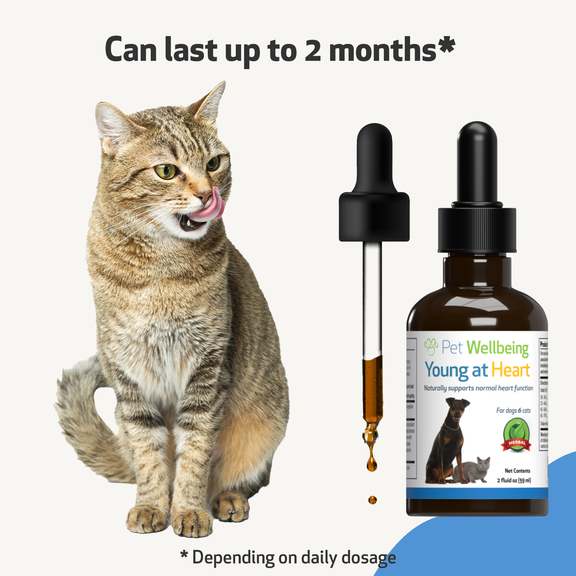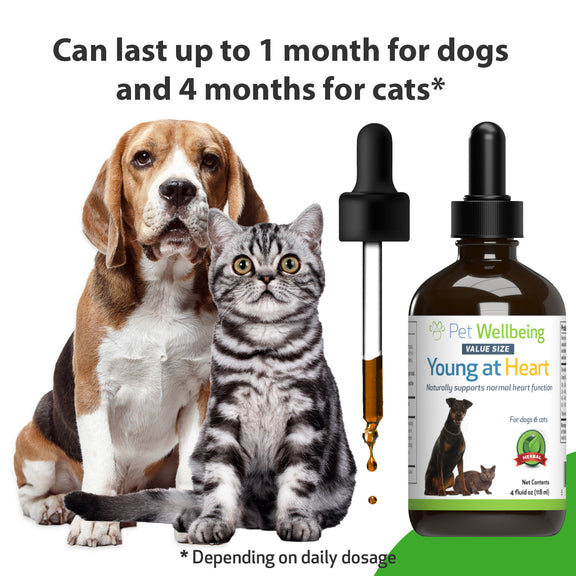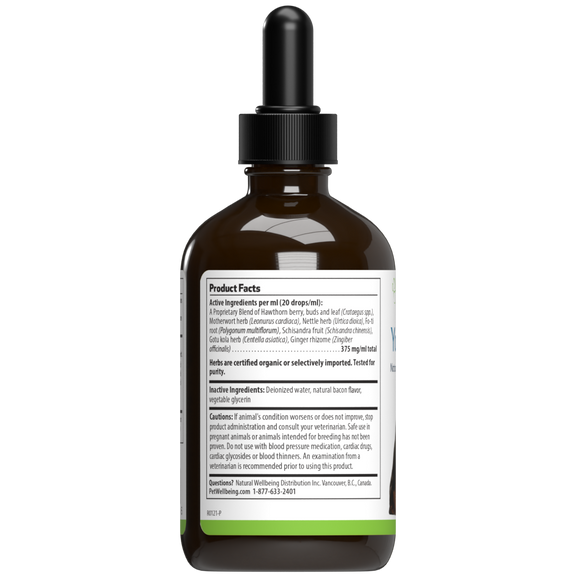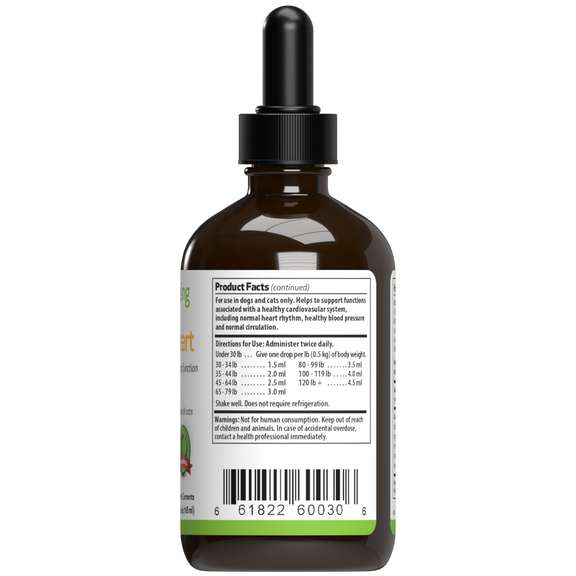 Skip to product information
Young at Heart - for Healthy Heart Maintenance in Cats
Free Shipping On All Orders
Why Subscribe & Save?
Save 12% on all Subscribe & Save orders.
Lowest price guarantee - better than Amazon.
No fees, no commitments - cancel Subscribe & Save anytime.
Shop risk-free with our 5-Star Experience or it's FREE Guarantee. Risk-free 5-Star Experience or it's FREE Guarantee.
Helps maintain cardiovascular health including:
Healthy and normal heart function
Heart muscle & heart rhythm
Healthy blood pressure
Good circulation
Order Young at Heart today and help maintain your cat's cardiovascular health!
Five-Star Experience or it's FREE
2 oz (59 ml) is a 2-month supply for most cats
4 oz (118 ml) is a 4-month supply for most cats
Calculate Dose - How long will this last my pet?
?What should you expect with our products?
Legal Disclaimer: Results may vary from pet to pet
What is Young at Heart?
Young at Heart is a liquid formula for felines, combining eight unique herbs. Together, these herbs have a gentle action on the body to support the health of the heart muscle, heart valves and blood vessels. Young at Heart is designed to be used every day and can safely be used by cats of all ages, as needed. If your feline is taking prescription medications, please review the precautions.
What is Young at Heart Used For?
The heart of a feline is anatomically similar to that of a human. However, the type of support required by a cat for normal heart function is not necessarily the same as it would be for the human heart. Young at Heart is a formula designed for your cat's entire cardiovascular system. In particular, it helps to support and maintain the normal muscular integrity of a healthy heart, the valves of the heart, and regular circulation of blood through the blood vessels. Additionally, Young at Heart contains herbs to support the heart's rhythm and healthy blood pressure.
Lets take a look inside the heart:
The heart is made up of three different layers: The pericardium (outer), myocardium (middle) and endocardium (inner). The pericardium makes up the outer layer of the heart and serves to protect the more delicate tissue layers beneath.
The myocardium is the muscle tissue comprising most of the heart. There are four chambers inside the heart:  two atria and two ventricles. The atria are the uppermost chambers and the ventricles are situated below them. The pumping action of the heart occurs within the myocardium, due to cardiac muscle fibers that interlace into two networks. One network contracts the atria and the other contracts the ventricles. These chambers receive circulating blood and pump it to the rest of the body with each heartbeat.
The endocardium is a smooth, thin layer inside the heart that also covers the heart valves. Atrioventricular valves lie between the atria and ventricles inside the heart. These are the bicuspid (left side of the heart) and tricuspid (right side of the heart) valves. They are there to ensure the blood keeps flowing through the heart in the right direction. Other valves are positioned inside the major arteries that leave the heart and they keep blood flowing to the rest of the body (and not backing up into the heart).
This is a simplified version of the heart's anatomy but it helps to demonstrate some basic information about how the heart works. As your pet ages, he or she may require support to keep the muscular integrity of the heart and the valves working normally. Certain breeds may be known to be more susceptible to specific kinds of heart conditions.
Does it Come With a Guarantee?
Yes! Young at Heart comes with a Five-Star Experience or it's FREE guarantee.
Why Choose Young at Heart for Your Feline Friend?
Certified Organic and Ethically Wild-Harvested: Our formulas are entirely prepared from organically grown and ethically wild-harvested herbs.
Good Manufacturing Practices: All our formulas are manufactured in a facility that adheres to Good Manufacturing Practices.
Full-Spectrum Extract: The full biochemical spectrum of the herbs is preserved to ensure the potency of the extract. All raw materials are tested for identification and purity.
Every Batch Tested: Every batch of our Young at Heart is tested to ensure the highest quality and potency. Every single batch.
FDA-Registered Facility: Our manufacturing facility is FDA-registered. Strict quality control procedures are meticulously monitored.
FDA Center for Veterinary Medicine Guidelines: PetWellbeing.com complies with the provisions of the CVM's good guidance practices for pet dietary supplements. All ingredients and caution statements adhere to these national guidelines.
It's Guaranteed: In addition to the superior quality of our products, you are also protected by our Five-Star Experience or it's FREE guarantee.
Who Makes Young at Heart?
Young at Heart is made by PetWellbeing.com, founded in 2001. Our goal? To bring the wisdom and experience of our caring holistic veterinarians to your pet. When your pet is healthy, you are happy.
To fulfill our vision, our on-staff, holistic veterinarians have developed formulas using time-honored, traditional uses of herbs and integrated the latest scientific research. It is our aim to produce the best products for your pet that we can.
Administer Young at Heart twice daily:
Under 30 lb: Give one drop per 1 lb (0.5 kg) of body weight
Shake well before use. Does not require refrigeration.
BEST way to give drops: Add drops to a small portion of a favorite food or treat and ensure the entire amount is consumed. Young at Heart is enhanced with delicious, natural bacon flavor. We recommend administration of the drops in a way that your cat will like best.
Cautions
Safe use in pregnant animals or animals intended for breeding has not been proven.
If animal's condition worsens or does not improve, stop product administration and consult your veterinarian.
Do not use with blood pressure medication, cardiac drugs, cardiac glycosides or blood thinners. 
An examination from a veterinarian is recommended prior to using this product. 
Not for human consumption. Keep out of reach of children and animals. In case of accidental overdose, contact a health professional immediately.
Young at Heart is Formulated With:
Mayblossom berry, buds and leaf: This herb is part of a variety of thorny shrub species from the Rose family. Traditionally, the berries have been used but there is mounting evidence to show that the flower buds and leaves contain high levels of useful constituents as well.

Mayblossom

is high in antioxidants (flavonoids) including OPCs, similar to the powerful flavonoids found in grapes that fight free radical damage.

Mayblossom

is used for the overall function and vitality of the entire cardiovascular system. It is used extensively in herbal medicine to support the heart muscle, heart rhythm, arterial system and coronary arteries, blood pressure and general circulation.
Motherwort herb (Leonurus cardiaca): Motherwort's action is twofold. Although it is considered an herb for supporting heart function, it also has been used for restlessness and agitation. This herb's actions are to support normal blood pressure, the heart's electrical impulses and help to maintain healthy circulation.
Nettle herb (Urtica dioica): Nettle supports the body's ability to excrete fluid through the kidneys. It is also high in minerals that are needed by the cardiovascular system, including calcium and potassium.
Fo-ti root (Polygonum multiflorum): Primarily used in Traditional Chinese Medicine, Fo-ti root has a long folkloric past as an herb for youthfulness and vigor. Today, we also know this plant for its useful application in supporting heart function. Traditional claims of this herb are that it "nourishes" the heart, possibly due to its ability to support the blood vessels that carry blood into and away from the heart and maintain healthy lipid levels in the blood.
Schisandra fruit (Schisandra chinensis): Extensively used in eastern countries, the berries of the woody Schisandra plant are known to be supportive to many parts of the body. High in antioxidants, these berries support strong immunity, the liver, stress reduction, cognitive function and the cardiovascular system. Schisandra helps to maintain healthy blood pressure levels.
Gotu kola herb (Centella asiatica): This is an herb with considerable use in both Chinese and Ayurvedic medicine. In the latter discipline, the name Brahmi was given to this herb, meaning "of divine origin". Gotu kola is known for its ability to help support the venous system and blood flow to extremities. Do not confuse this herb with Kola nut (Cola nitida or C. acuminata), a different herb which contains caffeine.
Ginger rhizome (Zingiber officinale): Ginger is used in very small quantities in this formula to help promote circulation.
... 375 mg per ml
Herbs are certified organic or ethically wild-harvested.
Inactive ingredients: Deionized water, natural bacon flavor, vegetable glycerin.