Kidney Support Gold - for Cat Kidney Function
has a rating of
4.5
stars based on
3125
reviews.
Kidney Support Gold - for Cat Kidney Function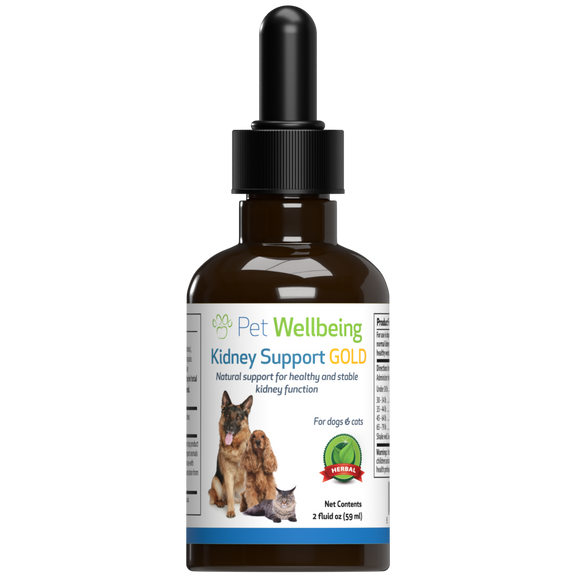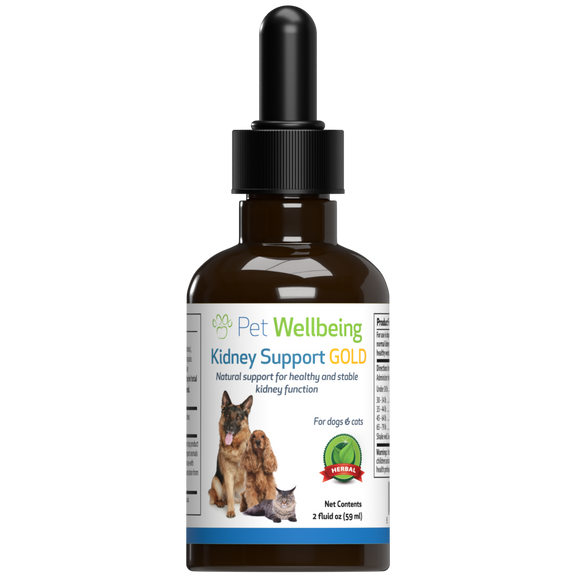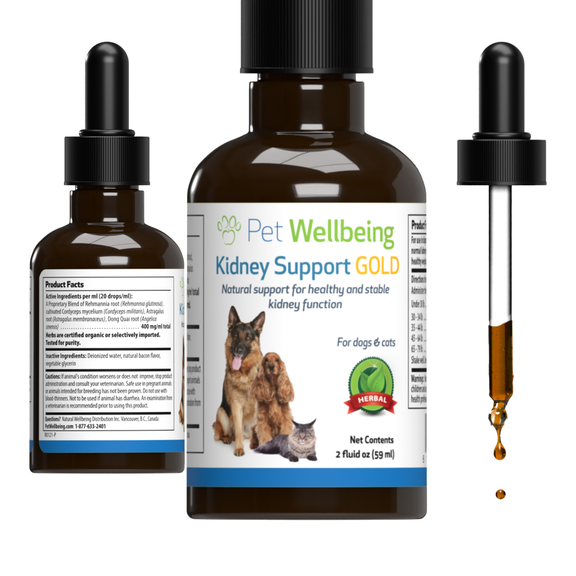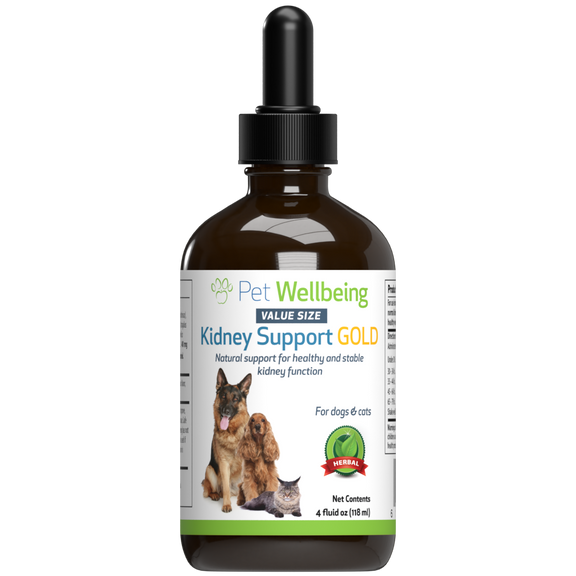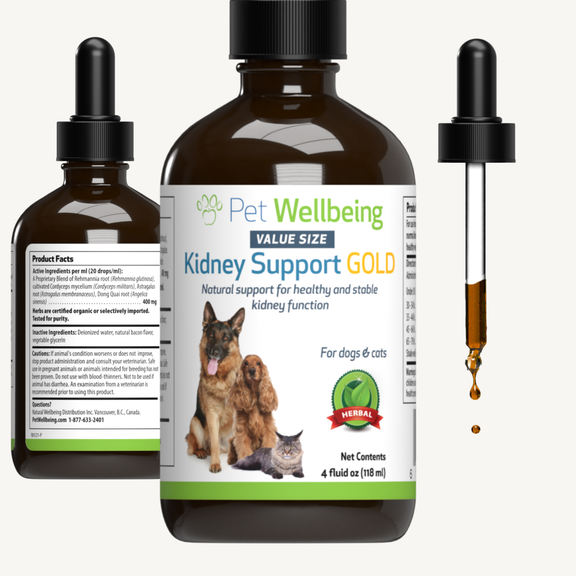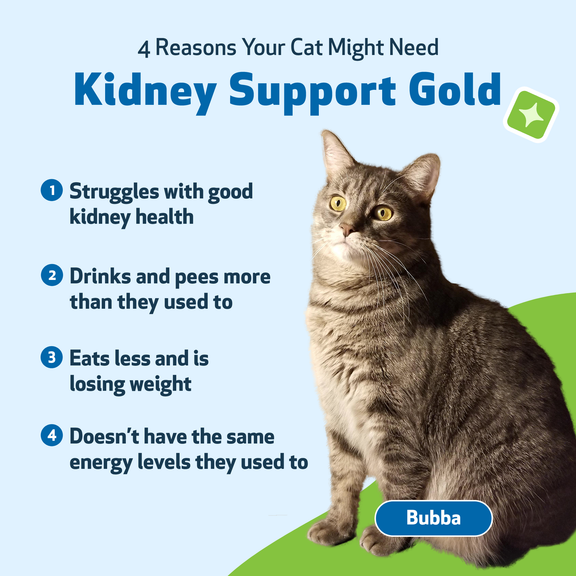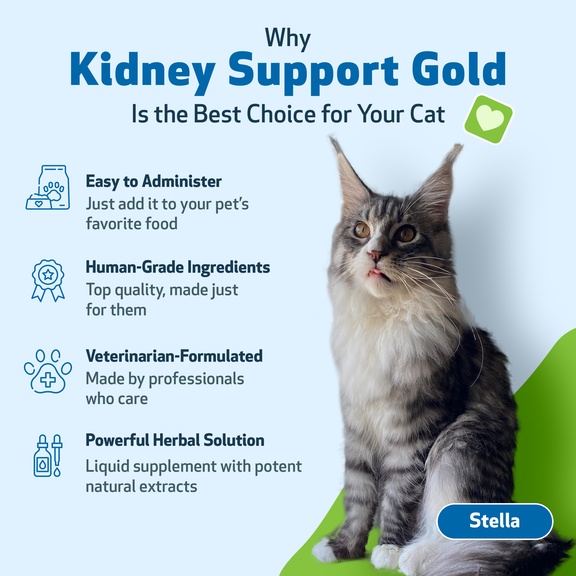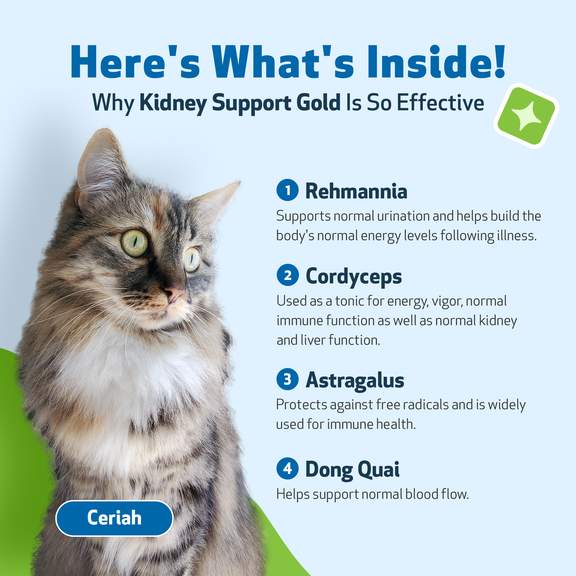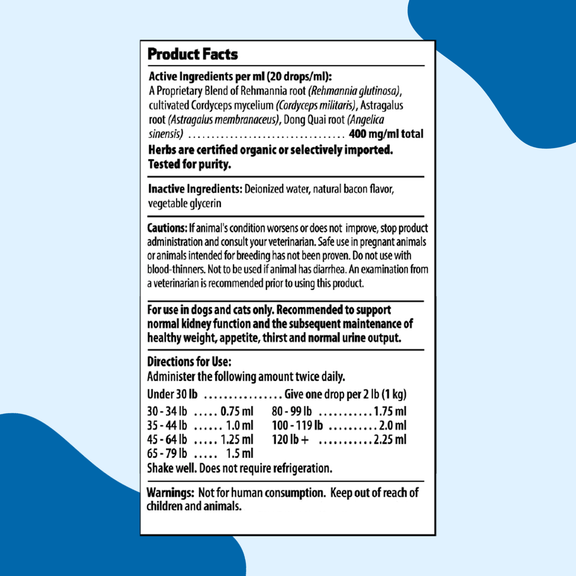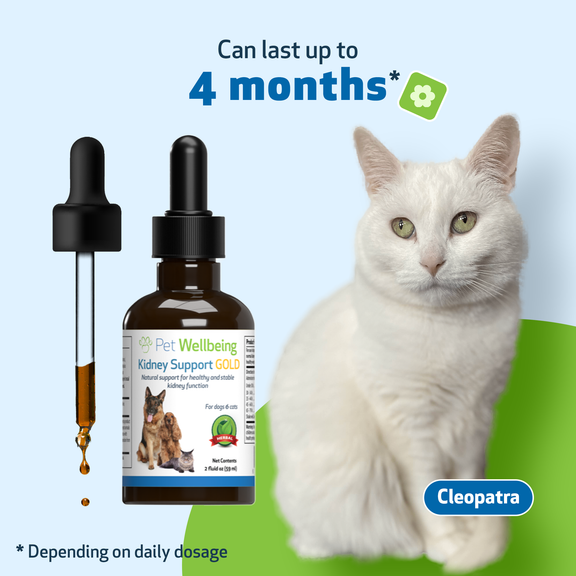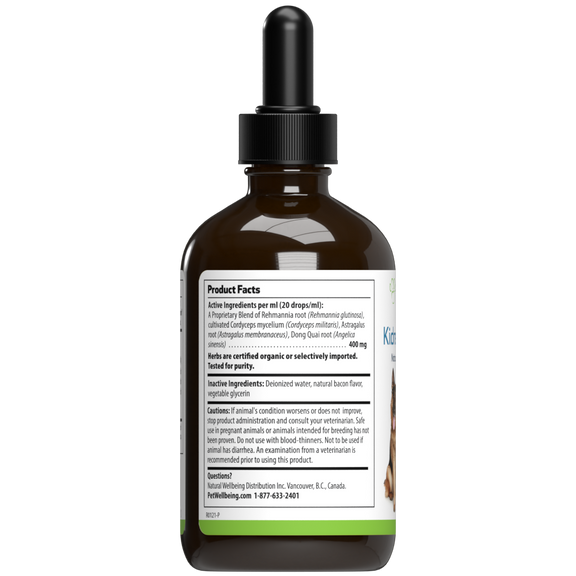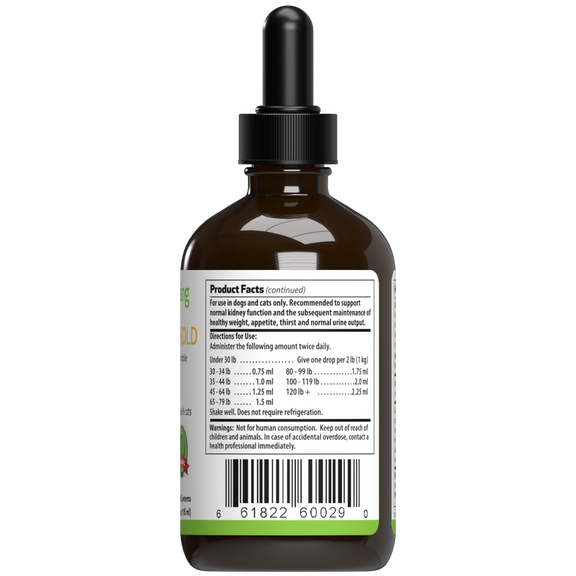 Skip to product information
Kidney Support Gold - for Cat Kidney Function
Free Shipping On All Orders
Why Subscribe & Save?
Save 12% on all Subscribe & Save orders.
Lowest price guarantee - better than Amazon.
No fees, no commitments - cancel Subscribe & Save anytime.
Shop risk-free with our 5-Star Experience or it's FREE Guarantee. Risk-free 5-Star Experience or it's FREE Guarantee.
Supports healthy kidney function including fluid balance
Normal urination and thirst (hydration)
Normal appetite and weight
General vitality and energy
Healthy immunity
Order Kidney Support Gold today and help your cat maintain healthier kidneys and a better quality of life!
Five-Star Experience or it's FREE
2 oz (59 ml) is a 4-month supply for most cats
4 oz (118 ml) is an 8-month supply for most cats
Calculate Dose - How long will this last my pet?
?What should you expect with our products?
Legal Disclaimer: Results may vary from pet to pet
Common Symptoms of Feline Renal (Kidney) Disease
Frequent urination
Increased thirst
Weight loss and decreased appetite
Depression, weakness or lethargy
Vomiting and/or diarrhea (may contain blood)
Poor coat quality
What is Kidney Support Gold?
This unique formula is a gentle yet powerful combination of herbal ingredients, tested by our holistic veterinarians. Kidney Support Gold is comprised of scientifically researched extracts for supporting kidney health. The result is a formula that is excellent for aging cats and is an essential part of your cat's long-term health regime for helping to maintain normal kidney function.
The effects of the herbs in Kidney Support Gold have been studied for their "tonic" actions. Tonic herbs are restorative, help maintain vitality and provide nutrition to the body in a way that it can readily absorb.
What is Kidney Support Gold Used For?
Kidney Support Gold is for long-term use when supporting normal renal function is imperative. This formula is created by using current research of time-honored herbs used in traditional Asian medicine for the kidneys and overall vitality.
Supports normal fluid and electrolyte balance.
Helps in the maintenance of normal levels of blood urea and creatinine (products of metabolism excreted by the kidneys).
Supports the health of the nephrons (the functional parts of the kidneys that help to filter blood).
Helps to maintain normal protein excretion in the urine.
Helps the body's immune system respond normally to bacteria and viruses.
Additional support:
Be sure that your feline is receiving adequate water intake. This is vital to the health of the kidneys. Ensure that a fresh, clean water source is available at all times, encouraging your cat to drink by providing different bowls or "pet fountains". Sometimes flavoring the water can entice your cat to drink more and lower the risk of dehydration.
Your veterinarian can advise you about giving your cat a diet low in protein and phosphate content, both important aspects of supporting the kidneys.
Kidney Support Gold is a natural alternative for your feline's general vitality. It really is Gold!
Does it come with a guarantee?
Yes! Kidney Support Gold comes with a Five-Star Experience or it's FREE guarantee.
Why Choose Kidney Support Gold for Your Feline Friend?
Certified Organic and Selectively Imported:  This formula is entirely prepared from organically grown and selectively imported herbs.
Good Manufacturing Practices:  All of our formulas are manufactured in a facility that adheres to Good Manufacturing Practices.
Full Spectrum Extract:  The full biochemical spectrum of the herbs is preserved  to ensure the potency of the extract.  All raw materials are tested for identification and purity.
Every Batch Tested:  Every batch of our Kidney Support Gold is tested to ensure the highest quality and potency.  Every single batch.
FDA-Registered Facility:  Our manufacturing facility is FDA-registered.  Strict quality control procedures are meticulously monitored.
FDA Center for Veterinary Medicine Guidelines:  Pet Wellbeing complies with the provisions of the CVM's good guidance practices for pet dietary supplements.  All ingredients and caution statements adhere to these national guidelines.
It's Guaranteed:  In addition to the superior quality of our products, you are also protected by our Five-Star Experience or it's FREE guarantee.
Who Makes Kidney Support Gold?
Kidney Support Gold is made by PetWellbeing.com, founded in 2001. Our goal? To bring the wisdom and experience of our caring holistic veterinarians to your pet. When your pet is healthy, you're happy.
To fulfill our vision, our on-staff, holistic veterinarians have developed formulas using time-honored, traditional uses of herbs, and integrated the latest scientific research.  It is our aim to produce the best products for your pet that we can.
Administer Kidney Support Gold twice daily:
Under 30 lb: Give one drop per 2 lb (1 kg) of body weight
Shake well before use. Does not require refrigeration.
BEST way to give drops: Add drops to a small portion of a favorite food or treat and ensure the entire amount is consumed. Kidney Support Gold is enhanced with delicious, natural bacon flavor. We recommend administration of the drops in a way that your cat will like best.
TIP! From Dr. Jan: You can safely double the administration amount of this product (i.e., give one drop per pound of body weight) as required.
Cautions
Safe use in pregnant animals or animals intended for breeding has not been proven.
If animal's condition worsens or does not improve, stop product administration and consult your veterinarian. 
Do not use with blood thinners.
Not to be used during diarrhea.
An examination from a veterinarian is recommended prior to using this product.
Not for human consumption. Keep out of reach of children and animals. In case of accidental overdose, contact a health professional immediately.
Kidney Support Gold is Formulated With:
Rehmannia root (Rehmannia glutinosa): This steamed root is a vital herb used widely in the traditional Chinese herbal repertory and contains vitamins C, A and some B vitamins. It is best known for its "tonic" properties to fortify the blood, increase vitality and support capillary integrity. Called Dihuang, this herb is used to "replenish the Kidneys", support normal urination and build the body's normal energy levels following illness.
Cordyceps mycelium (Cordyceps militaris): Considered a "medicinal mushroom" (or "ascocarp"), this potent ingredient originated in Tibet and is used as a tonic for energy, vigor, normal immune function as well as normal kidney and liver function. It is said to help support normal metabolic processes and all body systems. As well as having antioxidant properties, it also contains amino acids, some B vitamins, minerals, sterols and enzymes.
Astragalus root (Astragalus membranaceus): One of the best known "adaptogens", Astragalus is a replenishing herb for normal recovery from illness. It protects against free radicals and is widely used for immune health. Studies using Astragalus in combination with Dong Quai root show that these herbs may have an effect on the kidneys to normalize gene expression and help maintain normal, stabilized kidney function.
Dong Quai root (Angelica sinensis): An herb of Eastern Asia, this root is used widely in China for health and as a food. One of its uses is to help carry oxygen to tissues and support normal blood flow. Considered a daily tonic, it has been studied in conjunction with using Astragalus for the kidneys. [Its use to help balance normal hormone levels in the body has led to a misconception that it contains estrogens.]
... 400 mg per ml
Herbs are certified organic or selectively imported.
Inactive ingredients: Deionized water, natural bacon flavor, vegetable glycerin.