Urinary Gold - for Cat Urinary Tract Health
has a rating of
4.7
stars based on
857
reviews.
Urinary Gold - for Cat Urinary Tract Health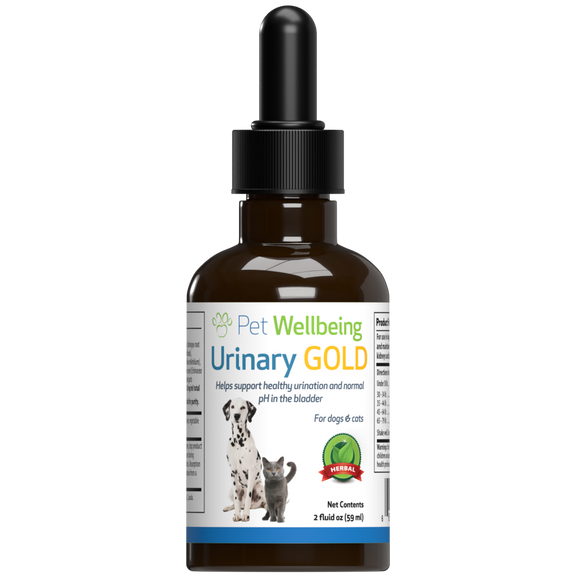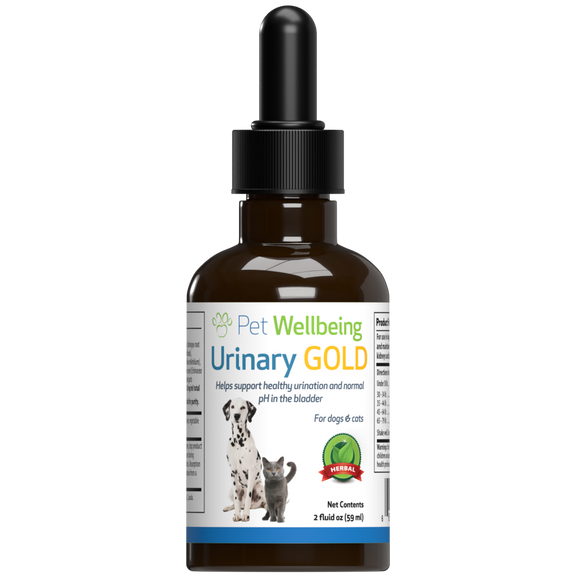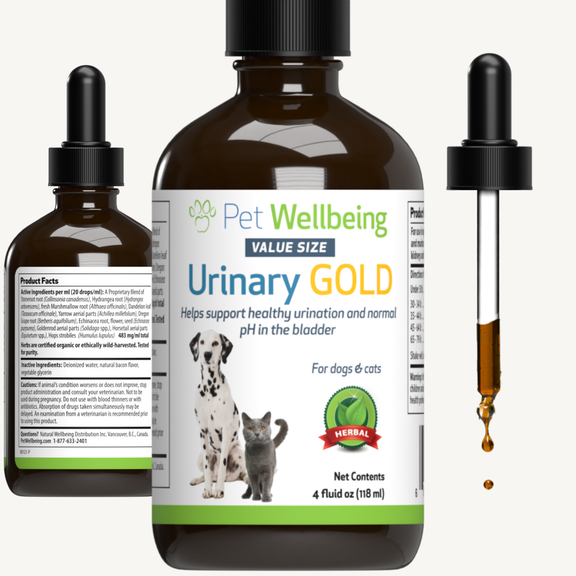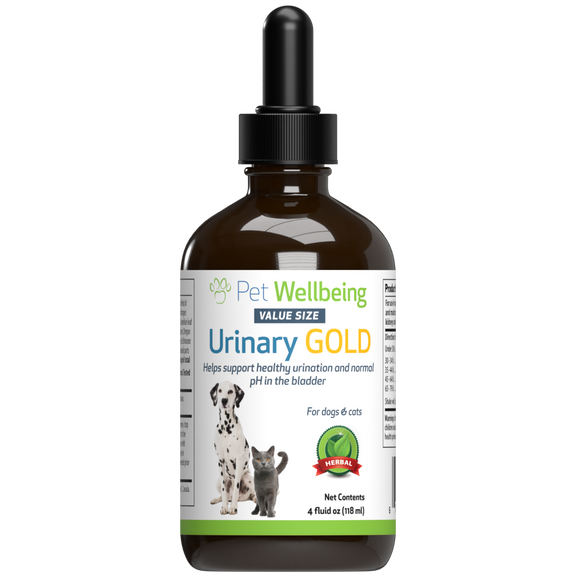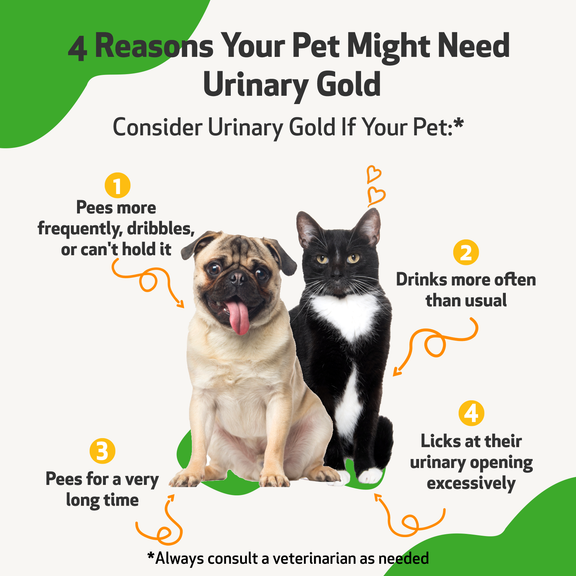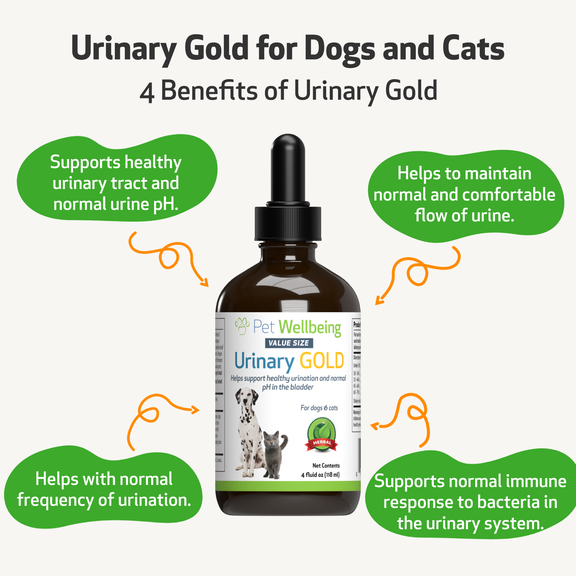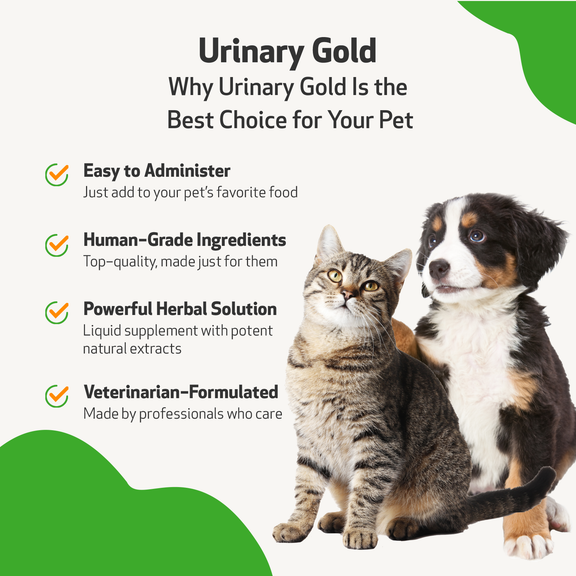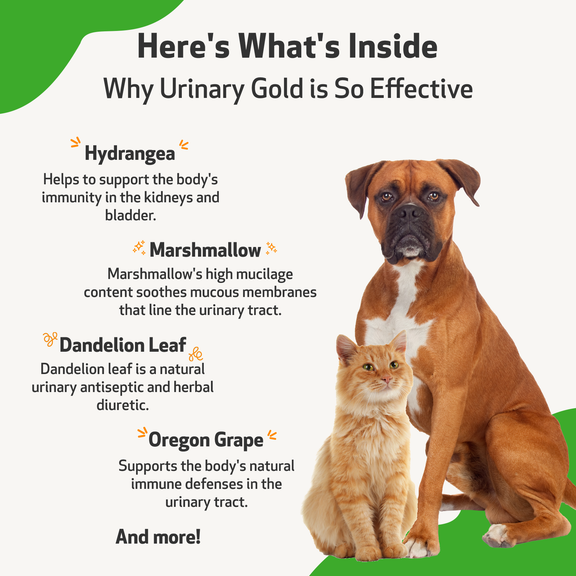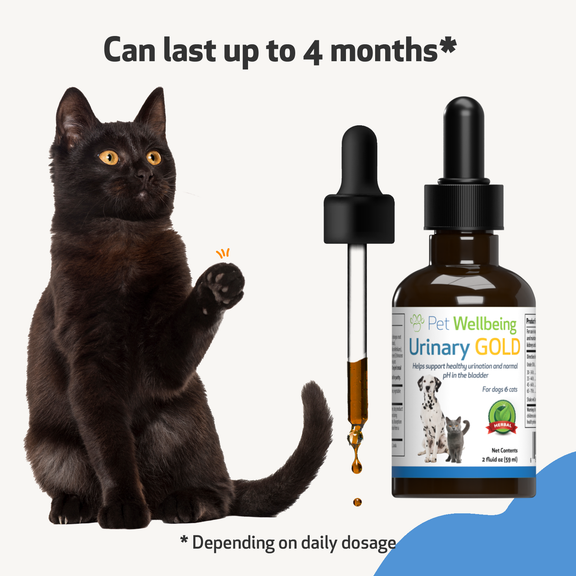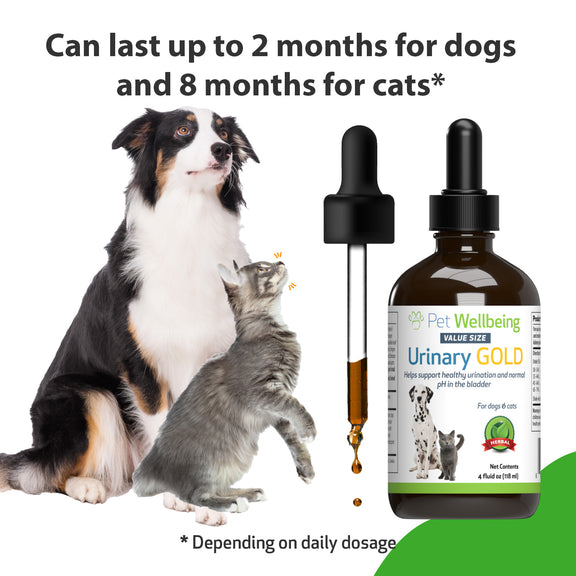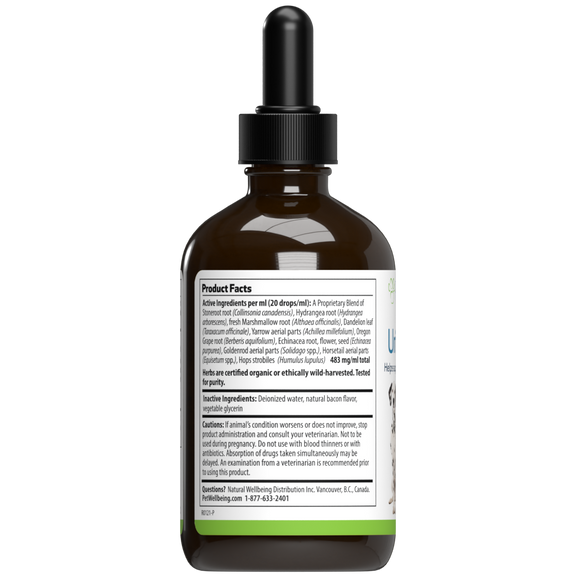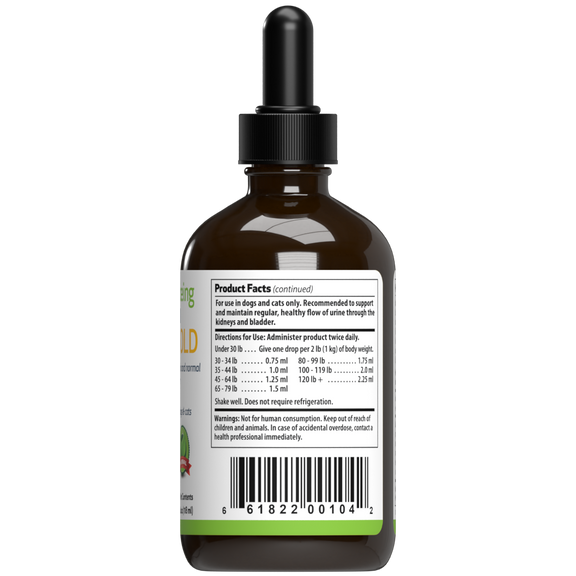 Skip to product information
Urinary Gold - for Cat Urinary Tract Health
Free Shipping On All Orders
Why Subscribe & Save?
Save 12% on all Subscribe & Save orders.
Lowest price guarantee - better than Amazon.
No fees, no commitments - cancel Subscribe & Save anytime.
Shop risk-free with our 5-Star Experience or it's FREE Guarantee. Risk-free 5-Star Experience or it's FREE Guarantee.
Supports urinary tract health and normal frequency
Support for a healthy urinary tract
Helps to maintain normal and comfortable flow of urine
Helps maintain normal immune response to bacteria
Helps with normal frequency of urination
Order Urinary Gold today and help your cat maintain comfort and health of their urinary tract
Five-Star Experience or it's FREE
2 oz (59 ml) is a 4-month supply for most cats
4 oz (118 ml) is an 8-month supply for most cats
Calculate Dose - How long will this last my pet?
?What should you expect with our products?
Legal Disclaimer: Results may vary from pet to pet
How Do I Know When to Seek Veterinary Help?
Visibly painful urination and/or prolonged urination
Frequent urination, inability to hold urine, dribbling
Excessive licking of the urinary opening
Bloody, cloudy or potent odor of urine
Increased thirst
Vomiting or lethargy
If you suspect that your cat may have an obstruction or total blockage of urine (urethral obstruction), seek veterinary advice immediately. As well as making frequent attempts to urinate, your pet will show signs of distress. Urethral obstruction is an acute, life-threatening condition.
What is Urinary Gold?
Urinary Gold was formulated by our holistic veterinarians to address different aspects of feline urinary tract health.
This proprietary blend of nine herbs targets:
Comfortable urination
Normal tone of the delicate tissues of the urinary system
Normal immunity against bacteria
What is Urinary Gold Used For?
When your feline requires support, Urinary Gold is a safe, gentle way to naturally maintain a healthy urinary tract. (Be sure to research changes to the diet that may also be of benefit. A natural diet for urinary health, along with Urinary Gold is an excellent way to ensure the health of your cat's urinary tract.)
Cats require healthy immunity that will naturally defend against bacteria and other pathogens in the urethra and bladder. Urinary Gold was designed to support the condition of the urinary tract. If your feline requires effective support, Urinary Gold can help.
A note from our veterinarian:
Give this supplement when urinary tract support is needed.
If your pet needs longer-term support, you can continue to administer Urinary Gold but reduce the recommended daily amount by half.
A dry kibble diet is not recommended for cats with urinary tract problems.
Does it Come With a Guarantee?
Yes! Urinary Gold comes with a Five-Star Experience or it's FREE guarantee.
Why Choose Urinary Gold for Your Feline Friend?
Certified Organic and Ethically Wild-Harvested:  This formula is entirely prepared from organically grown and wild-harvested herbs.
Good Manufacturing Practices:  All of our formulas are manufactured in a facility that adheres to Good Manufacturing Practices.
Full Spectrum Extract:  The full biochemical spectrum of the herbs is preserved  to ensure the potency of the extract.  All raw materials are tested for identification and purity.
Every Batch Tested:  Every batch of our Urinary Gold is tested to ensure the highest quality and potency.  Every single batch.
FDA-Registered Facility:  Our manufacturing facility is FDA-registered.  Strict quality control procedures are meticulously monitored.
FDA Center for Veterinary Medicine Guidelines:  PetWellbeing.com complies with the provisions of the CVM's good guidance practices for pet dietary supplements.  All ingredients and caution statements adhere to these national guidelines.
It's Guaranteed:  In addition to the superior quality of our products, you are also protected by our Five-Star Experience or it's FREE guarantee.
Who Makes Urinary Gold?
Urinary Gold is made by PetWellbeing.com, founded in 2001. Our goal? To bring the wisdom and experience of our caring holistic veterinarians to your pet. When your pet is healthy, you're happy.
To fulfill our vision, our on-staff, holistic veterinarians have developed formulas using time-honored, traditional uses of herbs, and integrated the latest scientific research.  It is our aim to produce the best products for your pet that we can.
Administer Urinary Gold twice daily:
Under 30 lb: Give one drop per 2 lb (1 kg) of body weight
Shake well before use. Does not require refrigeration.
BEST way to give drops: Add drops to a small portion of a favorite food or treat and ensure the entire amount is consumed. Urinary Gold is enhanced with delicious, natural bacon flavor. We recommend administration of the drops in a way that your cat will like best.
Please note: If your pet needs longer-term support, you can continue to administer Urinary Gold but reduce the recommended daily amount by half.
Cautions
Do not use during pregnancy.
If animal's condition worsens or does not improve, stop product administration and consult your veterinarian.
Do not use if animal has kidney disease.
Do not use with blood thinners or in conjunction with antibiotics.
Absorption of drugs taken simultaneously may be delayed.
An examination from a veterinarian is recommended prior to using this product.
Not for human consumption. Keep out of reach of children and animals. In case of accidental overdose, contact a health professional immediately.
Urinary Gold is Formulated With:
Stoneroot root (Collinsonia canadensis): Stoneroot soothes the mucous membranes of the urinary tract and helps to keep a healthy environment within the bladder and kidneys. Its traditional use for astringing tissues of the genitourinary system makes this herb as useful today as it has been in the past.
Hydrangea root (Hydrangea arborescens): Softening and soothing to the urinary tract, Hydrangea root also helps to support the body's immunity in the kidneys and bladder.
Marshmallow root (Althea officinalis): Considered one of the most useful herbal "demulcents", Marshmallow's high mucilage content soothes mucous membranes that line the urinary tract. This supports comfort during urination.
Dandelion leaf (Taraxacum officinale): Dandelion leaves are a powerful urinary antiseptic and herbal diuretic. The natural, bitter quality stimulates digestive enzyme production. Dandelion root is also commonly used, but for urinary issues the leaves have more specific therapeutic value. Dandelion is also a source of many vitamins and minerals.
Yarrow aerial parts (Achillea millefolium): Yarrow is an excellent herbal astringent (tones the tissues), supports immunity and generally cleanses and supports the entire urinary system.
Oregon Grape root (Berberis aquifolium): Oregon Grape, added as a supportive ingredient, is a North American plant high in berberine. Known as one of the most useful plant constituents to support the body's natural immunity, particularly the response to bacteria and viruses.
Echinacea root, flower and seed (Echinacea purpurea): Used commonly for its polysaccharide content and effect on the immune system, Echinacea has a specific affinity for the immunity of the urinary tract.
Goldenrod aerial parts (Solidago spp.): Used for support of inflammation in the lower urinary tract. Also used for prevention of stones, and to help relax the muscular contractions of the urinary tract.
Horsetail aerial parts Equisetum spp.): This herb helps maintain normal fluid balance in the body and is considered a specific for all aspects of the urinary system.
Hops strobiles (Humulus lupulus): Added specifically for muscular spasms of the urinary tract, Hops also provides a slight element of calming relaxation to the nervous system.
... 483 mg per ml
Herbs are certified organic or ethically wild-harvested.
Inactive ingredients: Deionized water, natural bacon flavor, vegetable glycerin.